Posted by
A Tobias
2 years ago
These refined designs are only subtly different from the others, but I did say I'd post openly about the development of this game, so...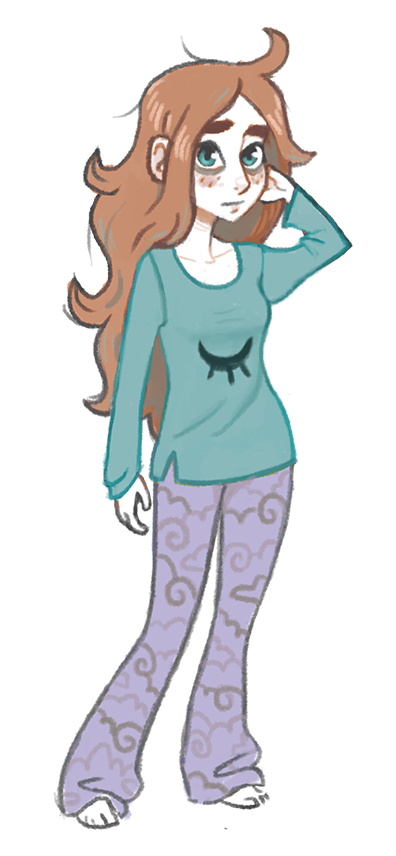 Since
PM ScintillaPurpose
mentioned that the owl-eye breasts were reminiscent of Hooters - a connection I'm embarrassed to have not made myself, considering I have an embarrassing childhood memory associated with that particular eatery-slash-oglery* - that's all I can see now, so I definitely had to change it! A shame, since I found it amusing and liked the design in an aesthetic sense, but it was too cluttered on the sprite anyway.
I tried to come up with a symbol that I felt might be just as fitting without unfortunate connotations. I decided on this closed eye thing, which also looks like a crescent moon; both evocative of night and sleep. Such a closed eye could perhaps be related to sadness/depression, too, in a way. I wondered whether to have a wispy spiral thing rising from the top to suggest dreaming in some abstract sense (it's hard to depict 'dreaming' as a symbol), but it made the eye look like some kind of cauldron or brazier or something, I thought.
I think I'm fairly sure about the colour of the top; I love that shade of teal, which some people might call green and others might call blue. The two bluer tops are only there as a result of experimental hue shifts. Colour theory is a thing, you see; some colours are more harmonious when used together than others, and coming up with a
∞ pleasing palette ∞
is a skill in itself. I want orange hair and a teal top, but those colours aren't especially harmonious when paired together... Number 4 shifts the hair colour to one which works best with the top (they're exactly 180 degrees apart on the colour wheel), and 5 shifts the top to harmonise with the hair colour... Neither of those are what I want, though. Orange hair has different connotations than that cherry coloured hair, and I definitely want to keep the teal...
The pants colour should agree with the other two as well, but I struggled with that. 16 and 17 are the results of using a 'triadic' colour scheme - that is, two secondary colours equally spaced from a point directly opposite the primary colour on the hue wheel (I'm sure this makes sense and is deeply fascinating to everyone) - but I thought they just looked really old-fashioned or something. Reminded me of the 60s or 70s or golf pants or something. I wanted them to be lavender, but wasn't sure of the exact hue, saturation or brightness.
∞ This handy colour palette web app ∞
helped a lot, and allowed me to settle on the shade on the bottom row.
I'd been using that chequered sort of pattern because I have some pyjama pants like that myself, and there were a few in the Google images... but that design doesn't really
say
anything, it has no meaning, so I wanted something better. Moons would match the night/dreams theme, and the symbol on her top, but it seemed a bit... bland? Predictable? The design I did end up liking is stylised clouds, since clouds are a good metaphor for thoughts in mindfulness teachings; seeing your thoughts as just passing clouds allows you to distance and dissociate yourself from them, to be free of them, and this game is about exactly that. Clouds and dreams seem to be linked in my mind, too. Plus they look a bit like the gyri and sulci on a brain (wow, I know neurology jargon now!), there's that connection too; appropriate if you're exploring her mind.
Oh, and I changed the hair a bit, and tweaked her figure to be less sexualised.
So yes. That's an unnecessarily long ramble about the minutiae of character design. Might be interesting to know the amount of thought that goes into it though.
I may continue to tweak the design over the course of development, but I think I'm fairly happy with this now (22 or 25 is what I'll go with; they're only very subtly different).
* I was in the USA on holiday with my family, and Pokemon Gold and Silver had come out there, long before they did in the UK. My brother and I spent much of the holiday playing them! One time, we were walking through an American 'mall', and we passed a Hooters. Childishly oblivious but recently exposed to the then-excitingly-new Pokemon Hoothoot, my brother and I started hooting at the sight of it. Our parents looked quite embarrassed, but it took me years to understand why!
If you liked this, please click the Appreciate button there