Posts relating to Concept :
Posted by
A Tobias
1 year ago
I like Pokemon, and I like personal development. I've recently been brainstorming ideas for an app - not really a game - which is sort of a combination of these two. Perhaps it'd be called something like "Inner Demons" or "Mind Tamer" or "Emotimon" or some better title I've yet to come up with, and it'd be a way of visualising and cultivating our inner worlds in terms of traits, fears, aspirations, strengths, and personal connections, represented as animal-like creatures that you feed whenever you engage a part of yourself, and in feeding them, they grow and evolve to represent your own personal growth and evolution.
Read more...
Posted by
A Tobias
2 years ago

I'd been trying to dive straight into asset creation with Soulmate, though I realised that I needed to think much more carefully about the groundwork - the conceptual base, story and setting - first. So I've done that! Though normally I'd avoid posting openly about story development like this to avoid 'spoilers' for when the game is done, I think it'll be more interesting to be able to watch as things develop over time. To compare the final story to the notes I had at this stage. I've also drawn a rudimentary design of the eponymous, androgynous Soulmate character!
Read more...
Posted by
A Tobias
2 years ago
Phew, this one took ages! And I'm not even sure I like where I've gone with it so far.
Read more...
Posted by
A Tobias
2 years ago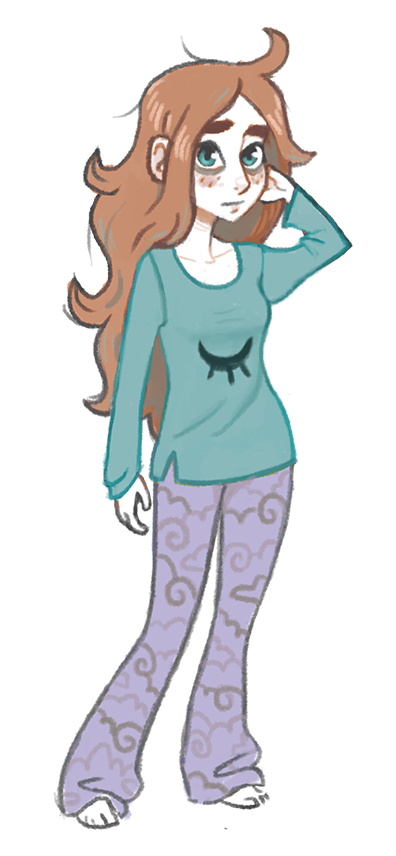 These refined designs are only subtly different from the others, but I did say I'd post openly about the development of this game, so...
Read more...
Posted by
A Tobias
2 years ago
The design for this protagonist is going in quite a weird direction at the moment!
Read more...
Posted by
A Tobias
2 years ago
Continuing from the
∞ previous post ∞
, I'll be describing the development process of my current project, Soulmate. While the other post covered the general gist of the story, this one will sketch out the world it's set in.
Read more...
Posted by
A Tobias
2 years ago
I've been occupied recently with university exams, but now that they - and the first academic year - are over, I have several long, lonely months ahead of me which I can use to finally properly get back to games development. I'm unsure which direction to take it in, though; as
∞ before ∞
, there are four ideas I could explore, though somewhat different ones this time!
Read more...
Posted by
A Tobias
2 years ago
It's been a while since I last updated this place. It's not that I've done no work on games; I just haven't been able to muster up the energy to write blog posts here! I've been struggling to cope with life, though. I found out there's something wrong with my brain. I've come close to suicide. I wrote about it all in
∞ my personal blog ∞
. I'm trying to use this all as inspiration... Seeing my current phase of inactivity as a time for a meaningful idea to form rather than rushing into something half-heartedly.
Read more...
Posted by
A Tobias
2 years ago
Firstly,
∞ here's the Android version of Taming Dreams ∞
! I want to talk about TD a bit here, but also my games development as a whole. For years, I've been going around in circles, repeating patterns and getting nowhere. I start projects that are supposed to be short and fast and profitable, but they grow out of control and become too big to manage, so my attention is taken to new ideas instead. However, I feel that with each revolution, I get closer and closer to the point I've been circling. I'm able to take the best parts of my previous ideas and combine them into new ideas that are (I feel) better than those that came before. Creation is largely a process of trial and error anyway; nobody creates a masterpiece without leaving a trail of failures in their wake. My uncertainty about Taming Dreams that I spoke of in my
∞ last post ∞
has led to me looking back on all the games I've started and never finished, wondering whether cannibalising them might lead to the elusive holy grail I've been searching for (that is, a quick-to-make but profitable game). I've come up with
four ideas
I could potentially explore.
Read more...
Posted by
A Tobias
3 years ago
What were originally the 'Governance de Magi' in the old versions of MARDEK are now called the 'Atonae', and they'll probably look something like this:
Read more...